iLAKEERIE Lake Erie Western Basin Fishing Report
Saturday September 22, first day of Autumn:
WALLEYE No reports, try the Central Basin from Cedar Point / Huron east.
YELLOW PERCH - Only one report; decent catch just south of Rattlesnake Island and then just west of South Bass Island north of the State Park Campground.
SMALLMOUTH BASS - No reports. Try autumn areas such as shallow rocky areas just off deep drop offs and shoal area drop offs. Slightly cooler water in the shallows may hold more fish.
OTHER SPECIES - Early Fall season - night fishing remains best, until water temperatures drop permanently, for bottom feeders, especially catfish. Catfish and sheepshead can be caught readily in Sandusky Bay and the other bays and river mouths fishing on the bottom or near the bottom with live bait or stink baits. Bullhead try the shallower parts of bays at night and deeper spots in the day in the various marshes. For panfish and largemouth bass fish the harbors and dock areas in deeper waters as well as nearshore areas with nearby aquatic vegetation in the early morning and late evening. Bottom transitions (depth and cover) with current or depth drop offs often hold active fish. Also try the shallower areas in the early morning as the water temperature here is likely lower.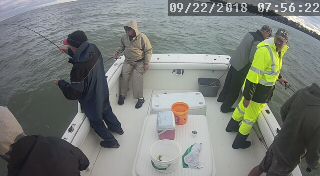 Perch on!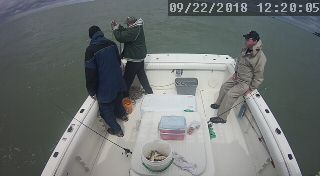 Pulling anchor to move.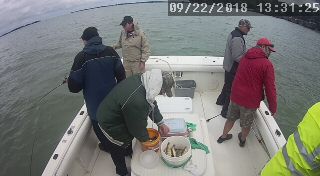 Counting / sorting perch.